Coffee meetings can provide the perfect atmosphere for small meetings in a relaxed environment, but location is key. You want to make sure the atmosphere is welcoming and it does not feel like you are being rushed to leave. At the same time the music or talking inside cannot be too loud as you have to carry on a conversation. And seating is of course a must have as well, preferably small tables with chairs for a greater feeling of privacy than at a shared table or counter-top. In a major city, the location chosen should either be accessible by train or T (that's the metro/subway for those outside Boston), have parking nearby or be close to your clients' location. And of course, the selection of coffee or tea is very important as well. After having many coffee meetings in and around Boston, I'd like to share a few of my favorite meeting spots.
1. The Thinking Cup- 85 Newbury Street, Back Bay, Boston
The Thinking Cup offers ample seating arranged for meetings, a wide selection of coffees, teas and pastries, and an inviting and welcoming atmosphere. If you order a hot latte, they will also include swirls or designs like in the title picture of this post (that will surely impress your guest). This location is in between the Copley and Arlington T stops on the Green Line, and is an easy walk from either stop as well as from the Back Bay Orange line or commuter rail station, and the Thinking Cup also has several other locations throughout the city. They also have outdoor seating when it is warm, which is a great environment if you do not mind the hustle and bustle of Newbury Street.
2. Sip Cafe- Zero Post Office Square, Financial District, Boston
Located inside the park at Post Office Square, this location is the perfect environment for a meeting on a sunny day. The walls of the shop are all windows overlooking the park and the city around it. Small tables are conveniently set up by the window for meetings, with additional seating outside. The spot is a hidden gem for the locals (sorry to spoil that) as it does not resemble a coffee shop from the outside. Come in for your next business meeting and enjoy the refreshing environment. The Sip Cafe is walkable from State Street on the Orange Line, Park Street on the Green Line, or South Station on the Red Line or Commuter Rail.
3. Starbucks- 125 Summer Street, Financial District, Boston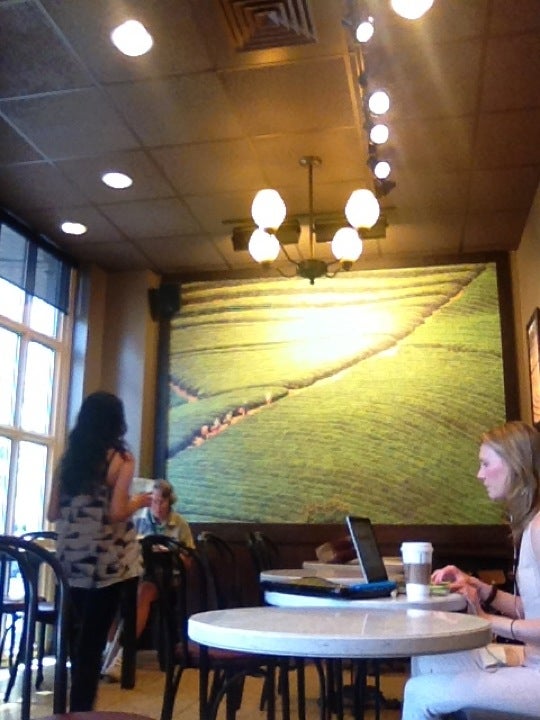 I know what you are thinking, Starbucks is nothing new or original. However, not all Starbucks locations are a good fit as some are noisy, crowded or inaccessible. This location, on the other hand, is the perfect spot for your coffee meeting. It is located down the street from the South Station Red line or Commuter Rail stops and most of the customers are picking up coffees on their walk to their office. Because of this, it is relatively easy to find seating at the elegant marble tables for two. The music plays at the perfect volume to drown out some background noise while not interfering in the conversation. By selecting a Starbucks meeting, there are no surprises for your guest and they will be able to order their favorite coffee (unless they are truly Bostonian and only drink Dunkin'). Additionally you can begin your meeting and order from the Starbucks App and will be notified when your order is ready.
4. French Press Bakery & Cafe, Needham, MA

Located in Needham, MA just outside Boston, this location is the perfect middle ground for meetings with someone coming from west of Boston. There is plenty of street parking and a noticeable lack of Boston traffic. The French Press Bakery & Cafe has an elegant atmosphere, with quality coffee, teas and pastries to choose from. The seating is more casual with either a long shared table or the coffee bar by the window, but either option provides a pleasant space for your meeting. And by selecting this sweetspot outside the city, you will be sure to impress your guess with the great location you "happened to come across" (thanks in advance for the mention of my blog!).
5. Bourbon Coffee, Cambridge, MA

Located near Porter Square (Red Line), this is the perfect spot for all of your coffee meetings in Cambridge. The space is luxurious with plenty of comfortable seating and resembles more of a restaurant than a cafe. The coffee selection is both delicious and has an amazing story behind it: "Bourbon Coffee opened in Rwanda in 2007, with the goal of bringing profits back to the hands of the coffee farmers and their families in Rwanda. Since then, we have grown to eight locations across Kigali and the USA as we strive to bring the stories of the coffee farmers and the history of Rwanda to an international audience." Come in for your next business meeting and experience Bourbon Coffee firsthand.
Want to experience one of these places for yourself and discuss your startup company and how Prepare 4 VC can help? Contact us to schedule a meeting.