Tips and Tricks by Prepare 4 VC
When starting your own business, every dollar counts. Luckily, in the digital age there are an incredible selection of free or freemium tools available to help turn your idea into reality. I have provided a list of some of my favorite tools for entrepreneurs that we have personally used for Prepare 4 VC.
1. Sitebuilder.com
With this free tool you can choose from hundreds of templates and add-ons for your website or fully customize it to fit your business needs. The site's drag and drop coding is easy to use and requires no coding experience, and html sections are available for more advanced customization. The blog section is also very easy to use and update. Cheap upgrades to your account allow for personalized domains, a company email, and much more.
2. Sideline App
A free app that allows you to add a second line to your cellphone under an available phone number of your choice. This tool is perfect for setting up an "office phone" right from your cell phone. The sideline number can contain its own voicemail box designated for your business and allows you to separate your work and personal phone calls.
3. htmlsig.com
Make your email look professional with an html signature. Include a website, logo, contact info and buttons that link to all of your social media websites.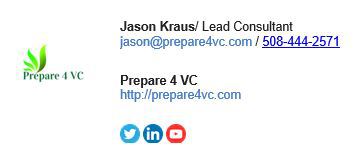 4. Zoom meetings
Schedule conference calls or video chats anytime, anywhere. Zoom meetings can be scheduled online or through the app and participates may login online or through the conference call line on the phone.
5. Raw Shorts:
Create a promotional video for your company with this free and easy to use tool. Raw Shorts has hundreds of templates for every business need. Check out our Rawshorts video and make yours today.